Written by Administrator
Sunday, 23 August 2009 09:19
Bird & Wildlife Watching in Costa Rica
Birdwatchers and nature lovers have found their playground in Costa Rica.
With the varying landscapes of cloud forests, rain forests, dry tropical forests, mangroves and seashores all within a few hours of each other, not to mention the extreme changes in altitude,
this small country is one of the most biologically diverse places on earth and home to over 4% of all plant and wildlife species on the planet.
Tours
We can arrange tours and guides all throughout the country. Just let us know what you're looking for, and we'll find it for you.
Also check out our Nature & Adventure Tours & Packages
What's Your Flavor?
Wildlife Spying
Costa Rica has: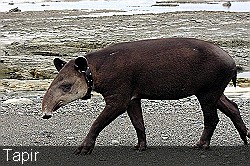 Over 900 species of birds
80 species of mammals including: 

2 species of sloth
3 species of anteaters
103 species of bats
6 species of wild cats

1,000 species of butterflies
130 species of freshwater fish
160 species of amphibians
208 species of mammals
220 species of reptiles
34,000 species of insects
9,000 species of plants
1,200 varieties of orchids
AND still going! New species are being discovered everyday.
Corcovado National Park is the true gem of Costa Rica when it comes to flora and fauna. It is internationally known as one of the richest and most diverse places on earth with endangered and rare species such as the jaguar, Baird's tapir, white-lipped peccaries and many more.
Contact us for a professional tour.
Bird Watching
Costa Rica is world famous for birdwatching. With over 900 species of birds, even the most experienced bird watcher will be in awe. Costa Rica is also an important destination for migrant birds.  There are two major migration seasons:
Fall Migration (July to October) when all northern birds travel south, some stay here and others pass through heading further south.
Spring Migration (March thru February) "the northward exodus begins in March and continues with greater intensity thru April". (Stiles & Skutch)
Some Popular Costa Rican Birds: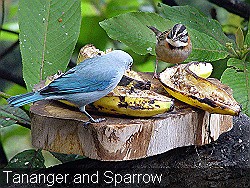 Toucans
Hummingbirds
Clay-colored Robin (Costa Rica's national bird)
Scarlet Macaws
Kingfishers
Motmots
Quetzals
Parrots
Contact us for a professional tour.
Turtle Tours
Turtle tours are another hot attraction here. Tortuguero National Park is most famous as the nesting site of the green sea turtle, hawksbill and the leatherback turtles. But don't forget about the lesser known north Pacific turtle beaches which are also home to some of the most important turtle nesting sites in the world. Read more about turtle tours...
Contact us for a professional tour.
Last Updated on Thursday, 17 September 2009 09:27